Online Support and Tutorials
The cable modems provided by PLWC allow you to connect wireless routers so you can share the internet connection with numerous devices in your home or business. For this equipment to function optimally, these devices need to be restarted on occasion.
Follow these steps to reboot your equipment:
STEP 1:

Unplug the power cord from the back of the cable modem for about 10 seconds. The power cord is located in the back of the cable modem and is the cord connected at the very bottom. After 10 seconds have passed, plug the power cord back into the modem. The modem will take about 2 minutes to come back online. The modem will return to online status when the power, send, receive, and online lights are lit up solid.
STEP 2:

If you have a router, reboot your router by unplugging the power connection from the back of the router for about 10 seconds and then plugging it back into the router power port.
STEP 3:

Restart your computer. Power down your computer completely and then restart your computer again.
Equipment like wireless routers can sometimes affect your ability to connect to the internet or the speed at which you connect. Bypassing your router can sometimes solve connectivity issues.
Follow these steps to bypass your router:
STEP 1:

Unplug the network cable (Ethernet) cord from your router and plug the network cable directly from your cable modem to your computer
STEP 2:

Reboot your cable modem by unplugging your cable modem for about 10 seconds.
STEP 3:

Restart your computer. Power down your computer completely and then restart your computer again.
STEP 4:

Attempt connecting to the internet again. You can check your Paragould.net speed's by visiting our speed test page. If speed test results improve with the router out of the equation, you will need to contact the manufacturer of your router for further support.
Much like your automobile needs routine maintenance to perform at its best, your computer also needs occasional tune-ups. The following suggestions can improve your computer's performance and keep it running smoothly.
Keep Windows Updated with the latest patches.

Windows Update scans your system and updates it with the latest security patches and service packs. These are broken down into Critical and Recommended updates. In addition to Windows, Microsoft Update will also patch a wide variety of Microsoft applications, such as Office and Windows Defender. To access Windows Update click on the Start button and typing in Windows Update in the search bar.
Keep your Spyware and AntiVirus Programs Updated.

No matter how good your spyware and antivirus software is, if it's not updated or, worse, not running at all, then it won't do you any good. Most antivirus applications load an icon in the Windows tray, which lets you verify its status at a glance. Always verify that the application is running after starting Windows.
Keep Your Applications and Utilities Patched.

Believe it or not, all of the applications and utilities on your system are prone to security risks and need to be updated regularly. Programs that you use every day like Adobe Acrobat Reader, QuickTime, Realplayer, Skype, WinZip and more require both maintenance and security updates from time to time.
Clear Temporary Internet Files, Cookies, History.

Your PC has a lot of non-essential data stored on it, much of which you might not even be aware of. For instance, Internet Explorer stores copies of the Web pages you visit, images and media for faster viewing later. Over time, this can lead to performance problems, causing Windows to become sluggish and unreliable. Internet Explorer can be cleared by clicking on Tools, then Internet Options, then Delete Temporary Internet Files, Cookies, and History.
Create a System Restore.

Before you install any new software on your system, always create a System Restore point. Some software can play havoc to your system causing all sorts of strange problems. System Restore helps you restore your computer's system files to an earlier point in time when your system was working well. To create a system restore point go to Control Panel and select Backup and Restore. Windows 7 users click "Recover system settings or your computer". Vista users select "Create a restore point or change settings.
Defragment and Check Your Hard Drive for Errors Regularly.

Windows has a built-in defragmenter and check-disk utility. To access either of them just open Windows Explorer and right-click on the drive you want to examine. Select Properties and then click on the Tools tab. To defragment your HD go to the Defragmentation section and press the Defragment now button. To perform a check disk, go to the Error-checking section and press the Check now button.
To repair a network connection in Windows XP:

Click Start, then Control Panel, then Network Connections. Right-click Local Area Connection and click Repair.
To repair a network connection in Windows Vista:

Click Windows button, then Control Panel, then Manage Network Connections. Right-click the Local Area Connection and click Diagnose and Repair, then Reset the Network Adapter.
To repair a network connection Windows 7:

Click Start, then Control Panel, then Network and Internet. Click the Network and Sharing Center link. Click the Fix a Network Problem link. Click the link for Internet Connections. Work your way through the troubleshooting guide. When the solution is found, close the troubleshooting guide.
A loose or damaged cable may impact the performance of your Internet connection.
Reseat all connections:

While reseating the connections, confirm that no cables are damaged. If any cables are damaged, they should be replaced. Make sure that the coaxial cable connections are clean and are connected tightly. The network (Ethernet) cables should click into place tightly in the back of the modem and on the computer.
Remove Any Unnecessary Coax Splitters

While checking all coaxial cable connections, remove any unneeded or damaged coaxial splitters.
The customer service representatives at Paragould Light Water and Cable are happy to assist you with any Internet related issues you may be having. The following information will assist our representatives in helping troubleshoot your issue in a fast and efficient manner.
Write Down Error Messages

The program or operating system will almost always provide an error message. Please write this information down exactly how it appears on your computer screen.
Be Near Your Computer

Calling tech support when you are away from your computer or about to leave makes troubleshooting the problem very difficult. Be near your computer and have it up and running when you call our customer service representatives.
Know the Circumstances of the Problem

What were you doing when the problem occurred? You should be able to describe what program you were using at the time of the error. Additionally, let the representative know if this is a recurring problem. Also, please inform us of any new equipment or software you have installed recently to your computer.
Know Your Equipment

Knowing the type of computer, operating system, and name of the program you were using will help tech support diagnose your problem more quickly. Have this information handy when you call.
Please Try Not to Assume

It is tempting to try and diagnose the problem yourself, but this can often mislead the representative and turn a simple problem into a baffling mystery. Providing only the facts is the best policy.
Belkin

 800-223-5546
 Mon – Fri: 8AM – 5PM (PST)
Cisco or Linksys
D-Link

 800-326-1688
 Mon – Fri: 8AM - 6PM (PST)
Netgear
TP-Link
To Set up Email on Your iPhone, iPad or iPod Touch:
STEP 1: From the Home screen, tap Settings

STEP 2: On the Settings screen, tap Mail, Contacts, Calendars.

STEP 3: From the Accounts section, tap Add Accounts

STEP 4: Tap Other

STEP 5: Tap Add Mail Account

Step 6: Complete the following fields, and tap Save

Name: The Name to display on your email, for example: Jane Doe
Address: Your email address, for example (

This email address is being protected from spambots. You need JavaScript enabled to view it.

)
Password: Your email account password.
Description: A description of the email address to display in the email account list on your device.

STEP 7: Tap POP.

STEP 8: Enter your Incoming Mail Server information:

Host Name: in.paragould.net
User Name: First part of your email address (everything before the @ sign)
Password: Your email account password

Step 9: Inter your Outgoing Mail Server information

Host Name: mobile.paragould.net
User Name: First part of your email address (everything before the @ sign)
Password: Your email account password

STEP 10: Tap Save

STEP 11: After attempting setup, a box will appear and ask if you want to set up the account Without SSL, Tap No.

STEP 12: Tap Save again.

Another message may say this account might not work and ask if you want to Save or Edit - Tap Save.

STEP 13: Upon saving your email account, return to the account settings page and verify the following incoming server information: (Tap Settings, Mail, Contacts and Calendars, Tap on the Paragould.net account, Scroll down and Tap Advanced.)

Use SSL: Off
Server Port: 110
To verify the outgoing mail server information: (Tap Settings, Mail, Contacts, and Calendars, Tap on the Paragould.net account, Tap SMTP.)
Use SSL: Off
Server Port: 25

STEP 14: Tap Done (Upper left-hand corner)

STEP 15: Tap Done again (Upper left-hand corner)

That's it. If everything is working OK, you should see some email messages. To make sure you can send messages, go ahead and compose an email and send it to yourself.
To Set up Email on Your Android-based Device
STEP 1: Open your device's settings.
STEP 2: If you already have an email account set up, press Menu and tap Accounts. Press Menu again and tap Add account.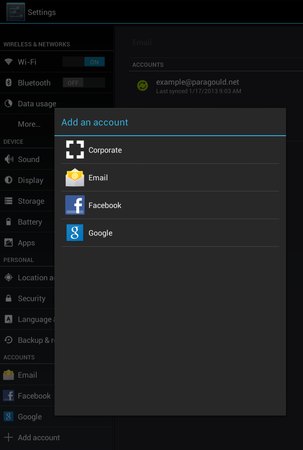 STEP 3: Type your Email address and Password, and click Manual Setup.

STEP 4: Tap POP3.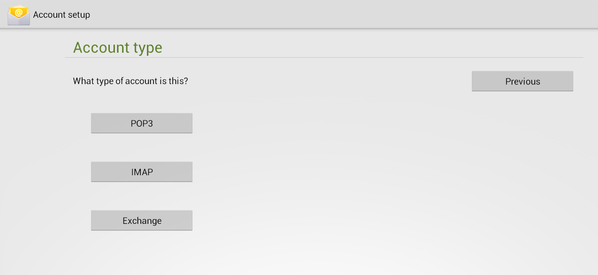 STEP 5: Use the settings for your incoming server:
Username: Enter your Paragould.net username (The first part of your email address).
Password: Enter your email password.
POP3 Server: in.paragould.net
Port: 110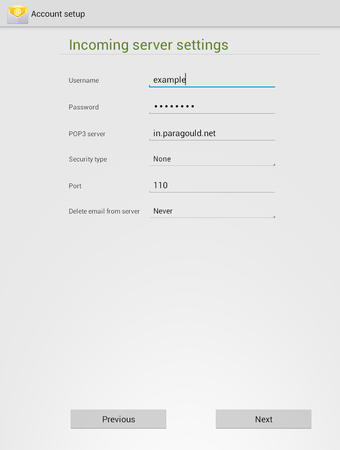 STEP 6: Use these settings for your outgoing server:
SMPT Server: mobile.paragould.net
Port: 25
Security type: none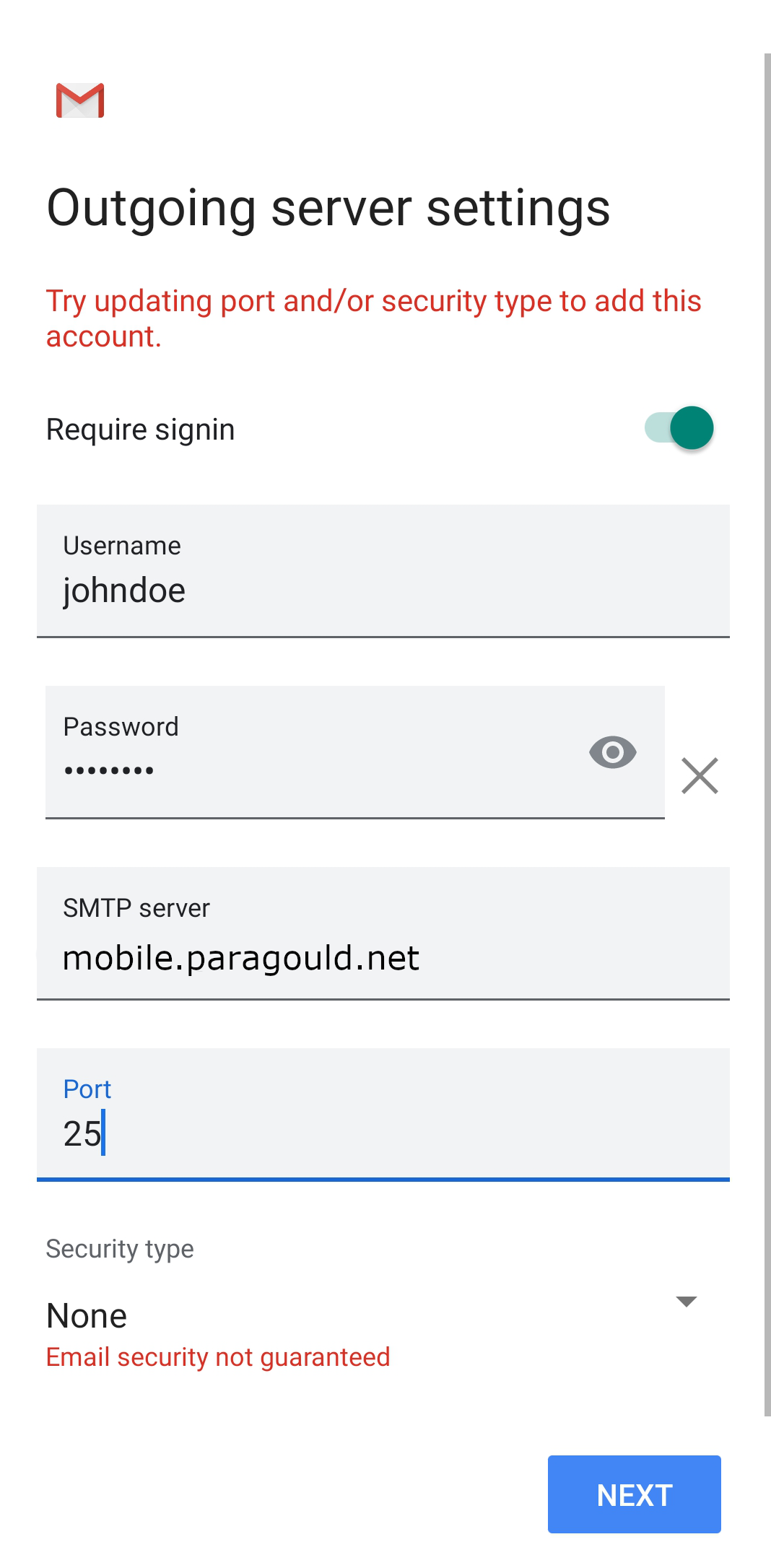 STEP 7: Select Require sign-in and make sure your Username (ex. jdoe) and Password are correct. Tap Next.
STEP 8: Tap Next again. Name your account and enter the name you want to display on outgoing messages.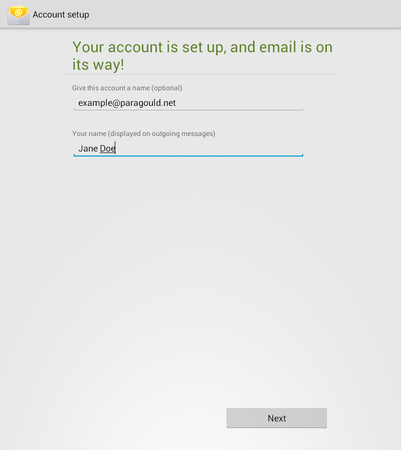 STEP 9: Tap Done.
That's it. If everything is working OK, you should see some email messages. To make sure you can send messages, go ahead and compose an email and send it to yourself.
To Set up Email on Windows-based Default Email Client:
You can always use Paragould.net Webmail to send and receive email messages. But you also can view your email with an email client. To access your email through Windows® Live Mail, add an account with the settings outlined below. While the exact steps may differ from version to version, you can use the settings listed here to set up other versions of Windows Mail as well.
STEP 1: Launch Windows Live Mail from the Start Menu.
STEP 2: Go to the Tools menu, and then select All Accounts.
STEP 3: In the navigation column, click Add e-mail account.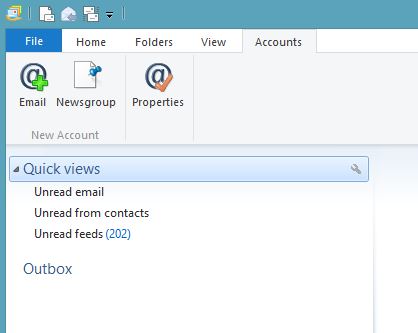 STEP 4: In the Email Address field, enter your full Paragould.net email address. For example: This email address is being protected from spambots. You need JavaScript enabled to view it.
STEP 5: In the Password field, enter your password.
STEP 6: Select if you want to Remember Password.
STEP 7: In the Display Name field, enter how you want your name to display when email is sent from this account, and then click Next. For example: Jane Doe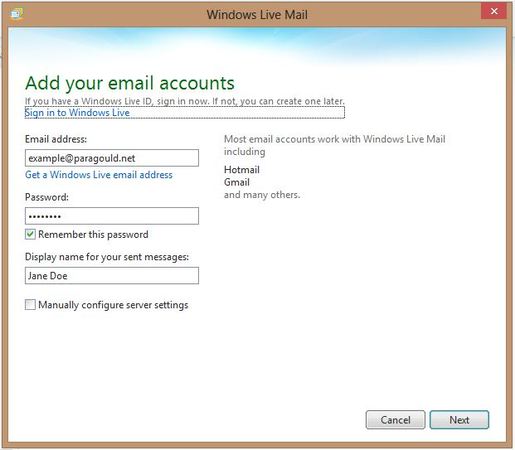 STEP 8: Select POP as your server type and enter your Incoming POP Server:
Username: Enter your Paragould.net username (Your email address).
Password: Enter your email account password.
POP3 Server: in.paragould.net
Port: 110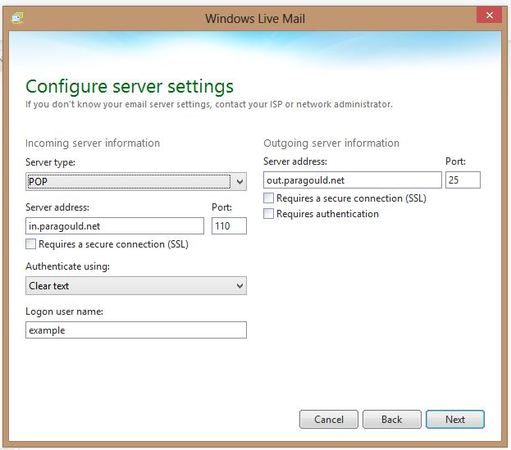 STEP 9: Select to log on using Clear text authentication.
STEP 10: In the Login ID field, enter your Paragould.net user name. For example: example
STEP 11: In the Outgoing server field, enter your Outgoing SMTP Server.
SMTP Server: out.paragould.net
Port: 25
Security type:  none
STEP 12: Click Finish.